Up Your Level support individuals and teams in reaching their highest performance levels through innovative methods. Their services include business coaching, leadership development, habit coaching, team training, corporate wellness, HR support, motivational talks and bespoke guidance to help clients be the best version of themselves, align their individual and shared purpose, and fulfil their personal and professional objectives.
Today, we have Daphne Grech Cumbo, Wellness Coach from Up Your Level write a guest post. Read along and learn how to implement a healthy food regime in the fast-paced world of business!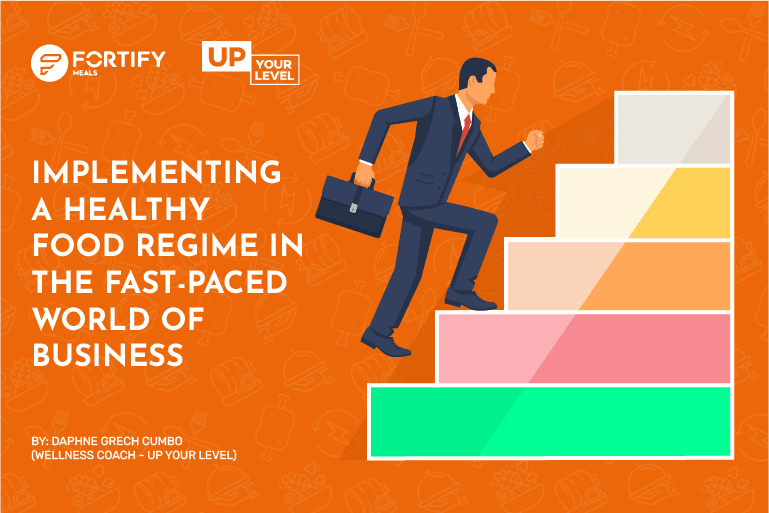 The average executive works around 8 – 10 hours daily, which can increase to 12+ hours for CEOs. On top of that, there can also be a commute of between 30 – 90 minutes to work.
Around work, there are personal commitments, family obligations, chores, errands, entertainment, and anything else we need to do that falls out of the "work" category.
Keeping the engine running is challenging if we neglect the precious fuel that sustains our busy lifestyles. This is why taking proper care of our daily nourishment and food is essential.
What's for dinner?
I was driving home from an evening meeting after preparing for an upcoming event. It was outside my usual work hours, and the roads were virtually empty since a rush hour had passed.
Yet, I was surprised to find a traffic jam, but I patiently waited in my lane, hoping there wasn't some accident holding up the traffic. Then I noticed that the lane I was in was the only one blocked and decided to take the outer road and, if need be, re-route from there.
The "traffic jam" was no more than a few hundred metres and ended abruptly at a gas station close to a fast-food drive-through restaurant.
In the recent years I have been using that road, I have never seen a queue spilling onto the street to block a lane.
Then it all started making sense: It was getting late, and the dinnertime window was closing. What's easier and faster than a drive-thru for a warm meal?
"I'm starving, and let me get something warm that tastes good fast."
In the same way, I notice this trend at the end of lunchtime. When people are hungry, the urgency is high. There is never a queue when I drive by the restaurant around noon or 6 pm.
Scenario
You had a busy day at work; if you're lucky, you wolfed down a sandwich (or was it a wrap?) whilst catching up on messages on your phone and then stayed on extra because a meeting overran. When you got through rush hour traffic, you stopped to pick up your dog/kids/shopping, cleared the living room and made your way to the kitchen.
You are verging on "Hangry": tired, starving and secretly hoping for a nourishing warm dinner to appear magically on your table, with a nice glass of wine to enjoy. At the same time, you change into comfortable clothes and get ready to unwind.
The reality is usually different. For most of us, the second shift begins when we (officially) stop working. If we have family members living with us, they need attention. Parents will probably agree that attention is an understatement, especially with young kids who require much more than that, even if they have someone else to care for them.
If we are by ourselves, we may lack the motivation to go through the effort to prepare a healthy meal and go with what's easier and more accessible at that time.
So we pop the rhetorical question: What's for dinner? Knowing the answer all too well.
What ends up on your plate?
Starting to plan dinner when you're starving after a long day is like deciding whether to take another drink when you're already drunk. You will find it hard to see reason and likely make a less-than-wise decision.
It can look like: consuming everything within reach, from carrots to chocolates to the dog's treats (maybe not), ordering a fast food delivery which does not comply with your healthy eating intentions or eating ice cream or peanut butter sandwiches for dinner.
When our glucose levels drop, it drags our willpower down, which explains the irrational decisions we make that are very different on a full stomach.
Beware of the "hangry."
We might laugh over being "Hangry", which many of us admit to, but there's a lot of biological and scientific truth behind the state of "anger" we are in when we're hungry.
Hunger makes us cranky, and we are in a bad mood because a primal need is not satisfied, and it must be satisfied.
Moreover, our gut produces several neurochemicals that contribute to our mood. Among them, 50% of dopamine, the happy chemical, directly impacts our mood and overall well-being.
All we can think of is food – so how will that affect our attention span? We naturally rush through stuff to get closer to our goal: food. It might not be ideal if your loved one just had a bad day and needs you to listen to them.
Experts advise us not to go into negotiations or have difficult conversations on an empty stomach. We are more likely to accept a lower price since our willpower is low and start an argument since our mood is not optimum. It's best to move these conversations after breakfast/lunch/dinner.
AWE, your eating habits
Healthy eating habits can be implemented even by the busiest of people.
It begins with 3 AWE thoughts:
Analyse how you currently consume your meals during the day and what you eat.
What would you like to change or improve from one or all of them?
Explore the best options for doing this on an individual or group level.
There are plenty of solutions available to suit different people and lifestyles.
Meal Planning
DIY – Do it Yourself
Thinking about what to eat is an energy-draining chore in itself. Cooked meals require prepping ingredients priorly: cutting, washing, and preparing before beginning prep and cooking.
What can you do to save time on this process? Shopping, washing and cutting and some preparation can usually be prepared in advance, on the weekend when you have more time. The key is to plan the meal, not to waste time thinking, just on doing.
YPC – Your Personal Chef
Another option, particularly for people with loaded schedules, is getting a healthy meal delivered regularly. You can skip all the steps above and still reach your healthy eating goals by finding a nutritious meal that suits your taste. You don't need to waste time and energy browsing menus and checking delivery times; you will find your meal ready to heat up when you have it.
Team Goals
If you are a leader who wants to encourage your team to achieve their well-being goals, you can take several actions to accomplish this goal. First, you can organise group sessions around practical nutrition and building healthy habits and then give them access to a wellness coach to guide them through their health objectives.
You can treat your team to lunch of their choice as a company. If they are working hard, you'll have the peace of mind of knowing that they'll be getting a nutritious, healthy meal that day, and the probability is that the company will have an even more productive afternoon.